News
Multilingual Storytellers to Perform at Waelderhaus on October 13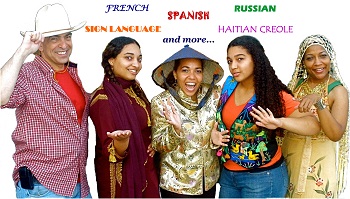 MULTILINGUAL STORYTELLERS TO PERFORM AT WAELDERHAUS
ON OCTOBER 13
Kohler, Wis. – September 9, 2019 Arts at the Waelderhaus, a series of intimate performances at the historic "house in the woods," welcomes Sadarri & Company, a multilingual storytelling troupe, who will take guests on an exciting global adventure on Sunday, October 13 at 2 p.m. 
During Sadarri & Company's "Global Adventures" program, participants will travel the world and experience hand-clappin', finger-snappin', foot-stompin' FUN!  Award-winning storytelling troupe, Sadarri & Company, will amaze you with their unique blend of music, movement and hilarious character voices.  Languages included in this interactive storytelling are Spanish, French, Russian, American Sign Language and more.
Sadarri & Company is the premier choice for multilingual storytelling in the Midwest. This vivacious family of teaching artists offers performances, workshops, and residencies worldwide for audiences of all ages. Specializing in multi-cultural literacy, their stories and songs have been showcased in numerous award-winning audio and video recordings. Their amazing work has also been featured in scores of books, magazines, and newspapers throughout the United States. Website: www.globaltales.com
Included in Sadarri & Company's Waelderhaus performance will be special guest Storyteller, Karen Wendt. Karen is Youth Services Coordinator at the Monona Public Library in Madison, Wisconsin. This 2018 Lucy Beck Storytelling Award winner mixes words with a sprinkle of puppets, a dash of sign language, a pinch of music, and ten pounds of wiggles to bake up delightful stories for children and grownups alike. Website: www.karenwendt.com
Admission to "Arts at the Waelderhaus" is free with reservations encouraged due to limited seating. No tickets are necessary. Please call the Waelderhaus at 920-453-2851 to reserve your seat, or email us at www.kohlerfoundation.org
The Waelderhaus is managed by Kohler Foundation and offers unique cultural events throughout the year. It's located at 1100 W. Riverside Dr., Kohler, and is open daily (except holidays) to the public for guided tours free of charge at 2:00 p.m., 3:00 p.m., and 4:00 p.m.
Kohler Foundation is a non-profit, private foundation that supports arts, education, and art preservation initiatives in Sheboygan County and the state of Wisconsin.
###